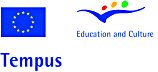 JOINT EUROPEAN PROJECTS University Management
UM-JEP 19105-2004

Coordinated by:




University of Zagreb
University Computing Centre


The project aims to facilitate the exchange of information and sharing of best practice throughout the Consortium of EU and Croatian partners. Information and communication technology offers many functional benefits and opportunities, but the challenge is to find appropriate / best way to use technology in concrete, particular situation in Croatia and to adopt European experience and practice.

The EU side of consortium includes 8 universities with respectable experience with implementation of e-learning in their countries. Most of consortium members have respectable experience in conducting EU projects and Tempus projects in particular. Efficient and productive partnership of University of Zagreb with Technical University of Vienna, as well as with University of Vienna, K.U. Leuven and University of Edinburgh was exhibited in previous Tempus projects.

Three Croatian universities participate in the consortium with the main goal to implement e-learning as a tool to improve quality of teaching and learning. Croatian academic and research network CARNet participate in consortium to share their experience and networking and educational infrastructure with other consortium members. Ministry of Science, Education and Sports thought the participation in the consortium emphasizes the importance and the support the Government is giving to improvement of higher education system in Croatia.
Universities from Croatia:
University of Dubrovnik
University of Rijeka
University of Zagreb
Institutions from Croatia:
Croatian Academic and Research Network - CARNet
Ministry of Science, Education and Sport
Universities and Institutions from European Union:
Estonian Information Technology Foundation, Estonian E-University, Estonia
Lifelong Learning Institute Dipoli at Helsinki University of Technology, Finland
University of Edinburgh, United Kingdom
University of Leuven, Belgium
University of Porto, Portugal
University of Vienna, Austria
Valencia University of Technology, Spain
Vienna University of Technology, Austria